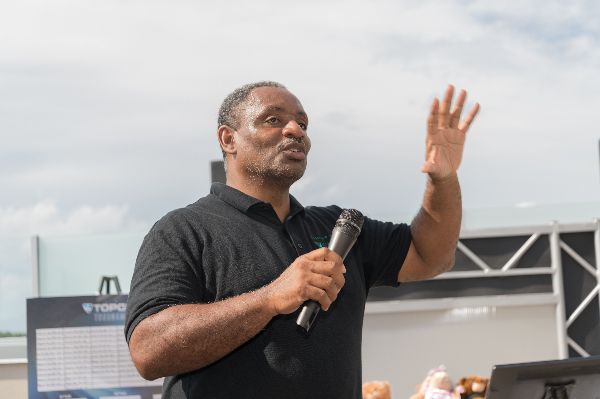 Last month, Kwame Building Group CEO Tony Thompson presented to the Ameren Diverse Supplier Mentoring Program about being the "face" of the organization. 
"As the founder of KBG, we knew Tony would be a great guest presenter and he certainly did not disappoint," said Michael Wild of Burns & McDonnell.
The following are notes captured from the meeting, which was described as a "very fast-paced and far-reaching discussion."
Tony's goal from Day 1 was to be a premier organization – not just a premier MBE organization. He believes in himself and his company and he just wants an opportunity to prove it.

Tony stressed the importance of quality and the need to continually reinforce this to employees. In many cases, MBE firms may be held to a higher standard and there are those who wait for them to slip-up so "failure" can be declared. 

He felt that marketing has got to be a priority for everyone in the firm, particularly for him – you are always "marketing" whether you know it or not. You never know the importance of attending an event, meeting for coffee, or just "checking in," but this is a relationship business and it takes time and effort to make the relationship work.

Employees must be kept informed and made part of the team. They are responsible for success, particularly in project execution. Relationships begin when you get a chance and excel – clients are actually

can i buy generic Lyrica wanting

you to succeed so never let them down.

Take advantage of social and print media to promote your employees, particularly new hires. Get employees involved in professional associations and groups and encourage them to hold office. Also, encourage writing articles for professional journals – establish yourself as an industry expert. Co-authoring with a client works well.

It is challenging and costly to expand geographically. Find St. Louis companies that will take you to projects in other locations. Tony explained the various models he used to develop offices in Orlando, Seattle and Atlanta. Much of his success came from developing relationships with partners that were mutually beneficial, either with majority firms or with other MBEs.

Tony also related the need to participate in the political process without being tied to a single group or leader. Companies that align with a single leader often disappear after the leader leaves. To be successful, be part of the process but don't rely on it to generate work. 

Lastly, unlike most DBE/WBE/MBE companies, KBG employs a very high percentage of minority and female professionals. Kwame has developed scholarship programs at historically black colleges and has formal mentoring programs with at-risk local youth, among other activities. Tony encourages MBE firms to lead by example.
https://kwamebuildinggroup.com/wp-content/uploads/2020/04/email-logo-320x132-300x124.png
0
0
rachbrown
https://kwamebuildinggroup.com/wp-content/uploads/2020/04/email-logo-320x132-300x124.png
rachbrown
2020-04-08 16:20:39
2020-11-16 04:42:52
Tony Thompson Shares Words of Wisdom to Ameren Diverse Supplier Mentoring Program